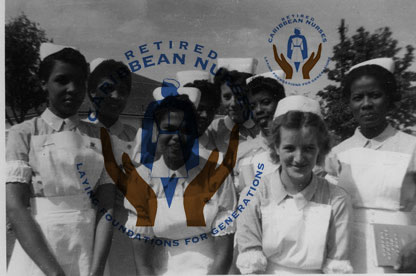 Retired Caribbean Nurse's Participation
An Oral History Project Chronicles the Experiences of Retired Caribbean Nurses who served in the NHS 1949 onwards
Caribbean Nurses in the (post-war) NHS
Pioneering a new way

An Oral History Project

A Call for Participants
This is a request from the Project Manager of the Retired Caribbean Nurses & NHS Project – Beverley Davis at Black Women in the Arts – www.blackwomenart.org   Can you help or do you know someone who can?  You can get in touch with us, using the contact details below.
Seeking women and men as oral history participants.  Did you come from the Caribbean to the UK to be a nurse in the 1940s and 1950s?
Black Women in the Arts is embarking on a project to chart the journeys and collect the stories of those who pioneered a new way, by leaving their homes in the Caribbean to become nurses in the UK in 1949 and afterwards.  We will be exploring transitions; where you settled and why, when you moved on and why, your nurse training, your friendships, challenges and joys of your nursing career and of your life in your new home.  If during your nursing career, you lived, trained or worked in the East London Boroughs of Hackney or Newham, do contact us.
When participating in this project, you can be part of a wide range of activities including designing the project website, giving your ideas to the project team, sharing your nursing memorabilia and being part of the exhibition. You will have the opportunity to meet other ex-nurses, to work with schools and with our volunteers from a range of backgrounds.  In addition, there will be a yearly opportunity to continue meeting together.
If you are interested in being involved in any way or have any questions then please feel free to contact  Beverley Davis at the details below:
email address: enquiries@blackwomenart.org.uk
address:  Black Women in the Arts, 62 Beechwood Road, Hackney, London.  E8 3DY
Telephone:  020 7923 7658 (office)
Retired Caribbean Nurses & the NHS  – Laying Foundations for Generations
Are you a retired nurse, from the Caribbean, and would like to participate?  We would love to hear from you.

We want to:  listen to you, record your experiences of leaving home, travelling to the UK, settling here and of being a nurse.